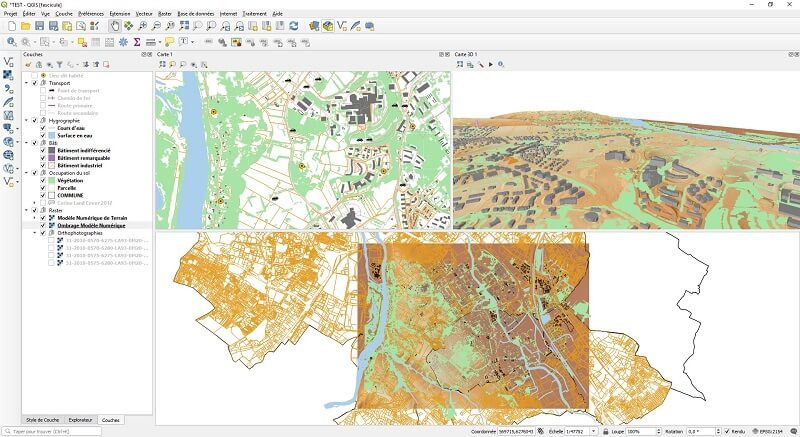 Duration: 5 days
Level: initiation / advanced
Prerequisite: Computer science basics
Certificate: Yes
Provision of the software: Yes
Location: France (individual), within your country / company
This QGIS training is aimed at people who have basic computer science skills wishing manipulate, manage and display cartographic data and indicators from external databases (Dbase...).
At the end of this training session, trainees will be able to:
Understand basics of the geographical information
Manage GIS data using QGIS
Display GIS data on maps
Organize vector and raster data in QGIS
Integrate external data using joins
Realize graphic selections and attribute selections using SQL query
Set thematic analysis with unique values, per range of values, per proportional symbols...
Realize layout using QGIS print composer
Learn to create and modify vector data, respect topology
Perform geoprocessing (clip, intersection, union...)
Work with Raster data and Digital Elevation Model (DEM) to extract contour lines, create Slope Models, Hillshade, terrain profile...
Spatial analysis with QGIS
Advanced layers symbology with QGIS
QGIS toolbox
MAPTOGIS (formerly called 2D3D.GIS) is a GIS technical assistance (TA) and certified training center. According to its status, prices under are taxes free.
TYPE
PRICE
TRAINEE
DATE & LOCATION
Individual
4 500 EUR
-
La Rochelle (FRANCE)
Within Company
5 500 EUR (*)
Group of 1 to 5 people. From the
sixth trainee, price of 1250 EUR
per additional trainee.
On site in your country
Technical assistance
95 EUR / hour
Training / assistance with
remote control of the computer using
teamviewer + skype
Remotely
(*) travel days of the trainer, domestic approach, international air ticket and perdiem not included.